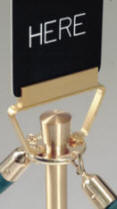 Glaro Economical Sign Holder
Adapter Included
Sign Holders are designed to secure and display plastic sign panels that do not require the need of a frame. Typically, these are round corner engraved plastic panels.
Price includes mounting bracket (as shown) and all mounting hardware.
Contact us for custom engraved Sign panels.
List Price: $104.00
Buy Now
$78.00