Glaro Wall Mounted Towel Racks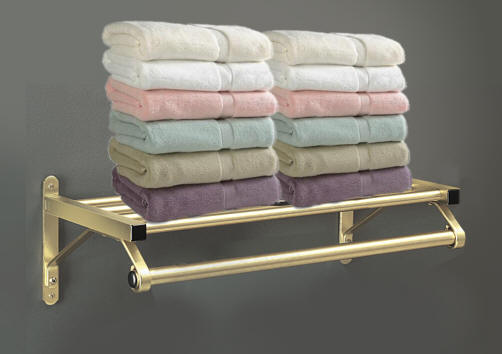 Glaro anodized brass Towel Rack with a top Shelf are available in 24", 30", and 36". The tubular top shelf design encourages air flow to prevent mold from accumulating in moist areas such as bathrooms.
Hotel Quality and Durability is now available to those who demand the best.
>>> DISCONTINUED <<<
Glaro Towel Racks with Storage Shelf


Sorry! Anodized Brass is Discontinued!
24" Anodized Brass Wall Mounted Towel Rack
List Price $231.00
SALE PRICE $174.00

30" Anodized Brass Wall Mounted Towel Rack
List Price $261.00
SALE PRICE $196.00

36" Anodized Brass Wall Mounted Towel Rack
List Price $277.00
SALE PRICE $208.00